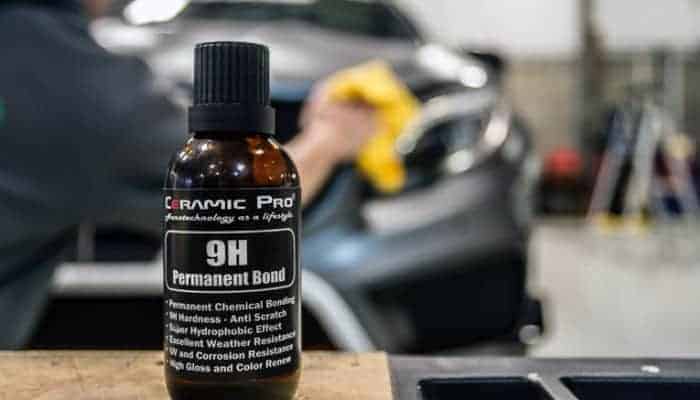 EXPERIENCE THE BEST PERMANENT COATING
Ceramic Pro is a clear, liquid nanoceramic coating, based on a revolutionary technology. When cured, this technology will chemically bond, transforming itself on the surface to become a rigid, super-structure of nanoglass considered as an additional clear coat.
Ceamic Coating.
The benefits of this strong and durable shield are:
Resistant to solvents,acids, alkalis, bird dropping, tree sap, UV rays, harsh weather conditions and corrosion, graffiti, easy to clean and maintain.
Wash, clay and prep paint
4 layers of 9H
1 layer of Light as Top Coat
Install time: 12-14 hrs
Wash, clay and prep paint
1 layer of Light as Top Coat
1 layer of Ceramic Pro Sport
Install time: 3-4 hrs
Ceramic Pro can be used to protect Brand New Cars and Used Cars, check out our Paint Correction Packages if you have a used car or if your paint finish has scratches or swirl marks.
When you book an appointment and even if your car is new, we recommend to always get at least a Level 3 paint correction make it a link to ensure we remove minor defects so we don't lock them in under the coating once we apply it to the car.
Also our mobile units can perform at your location Bronze, Silver, Silver Plus package and Paint Correction Services. Check out our coverage map to find out if we can come to your area. Click here for map
CERAMIC COATING - BAY AREA
SAN JOSE ● CAMPBELL ● CUPERTINO ● SARATOGA ● LOS GATOS ● MILPITAS ● MOUNTAIN VIEW ● PALO ALTO ● PORTOLA VALLEY ● WOODSIDE ● MENLO PARK ●| ATHERTON ● EMERALD HILLS ● LOS ALTOS HILLS ● REDWOOD CITY ●| SAN CARLOS ●| BELMONT ● FOSTER CITY ● BURLINGAME ● MILLBRAE ● SAN BRUNO ● PACIFICA ●| MORGAN HILL ● SANTA CLARA ● SUNNYVALE ● FREMONT ● NEWARK ● UNION CITY ● HAYWARD ● PLEASANTON ● DUBLIN ● SAN RAMON ● LIVERMORE ● DANVILLE ● OAKLAND.